About Arwel Treharne Morgan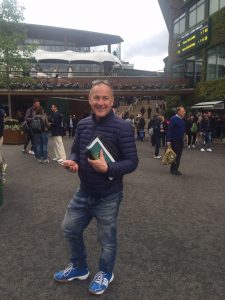 Winning a scholarship to the Royal Academy of Music, Arwel Treharne Morgan enjoyed early successes with major awards for both piano and voice. A further scholarship to the Arts Council saw him continue his studies, first in the US and subsequently in Canada. He was a member of Yehudi Menuhin's Live Music Now! scheme and subsequently sang at Buckingham Palace for Lord Menuhin's 80th birthday celebration.
Arwel has performed in oratorios at major London venues such as the Royal Festival Hall, Queen Elizabeth Hall, Royal Albert Hall and St. Martin-in-the-Fields, as well as New York's Lincoln Center and at the European Singing Festival. He has taken part in frequent broadcasts on BBC Radio 3 as both pianist and singer, and has been in demand as a recitalist at London chamber music venues such as the Purcell Room and the Wigmore Hall. His work as an accompanist for both singers and instrumentalists has taken him to the UK's leading festivals as well as into the studio for numerous recordings.
Arwel's operatic roles include: 'Pylades' (Iphegenie en Tauride), 'Count Almaviva' (Il Barbiere di Siviglia), 'Ferrando' (Cosi Fan Tutte), 'Agenore' (Il Re Pastore), 'Tamino' (Die Zauberflöte) and 'Don Ottavio' (Don Giovanni), with performances at the Royal Opera House, Aldeburgh, Lufthansa and Milan Festivals. He has performed as 'Moore' (The Dragon Of Wantley) and 'Don Pelagio' (La Canterina) both at the Linbury Theatre and the Royal Opera House. He has sung the role of 'Ernesto' in Donizetti's Don Pasquale around the world, 'Jonathan' in Handel's Saul with the St Petersburg Symphony Orchestra in Russia and Latvia and has performed an evening of opera in Hong Kong at the invitation of the British Government.
One of Arwel's most celebrated accomplishments was his one man show Never Say Dai, which he took to London's West End, Glasgow's West End Festival, the French Riviera and numerous festivals throughout the UK as well as New York where he also hosted the State Theatre's New Year's Eve Opera Gala. He performed alongside broadcaster Richard Baker in London, merging music and monologue in revue-style performances, and more recently he returned to the Riviera and Ireland performing song recitals with pianist Lada Valešová.
Arwel devotes a large part of his time to teaching students at his prolific and successful London-based singing studio where he enjoys working alongside leading directors and vocal coaches.